Today in the news you wont believe it if i tell you. So listen up
---
By now you may all have heard about the Chasers War on Everythings massive stunt in Sydney. Luckily on BBC news
"All 11 members of the crew have been bailed after being charged with entering a secure area. Police are said to be considering further charges."
The Crew were disguised in three large cars and two motorcycles carrying Canadian flags.

When they got far enough Chas jumped out of the car dressed as Osama Bin Laden.
They got within 10 metres of where President George Bush was staying.

Also, why does the Sydney lockdown remind me of The Simpsons movie?
The Chasers made the BBC
http://news.bbc.co.uk/1/hi/world/asia-pacific/6982897.stm
and heres A Current Affairs view on it.

Chasers. i give you a 10/10 you've officially proven you are one of the best comedy groups on earth.

---
I'm happy the Daily Crumb didnt close down yesterday after my cunning plan to trick Blogger into thinking i had more views.
But soon enough they will realise my photoshop skills were used to cover up the triple 0's.
STAT counter:
According to the counter we had a massive
29 unique visitors
yesterday + yesternight.
And THIS is the one i'd most like to ignore and forget about.

Page loads

----------------------
Today the Daily Crumb is reviewing
This button!
On most forums they have a button that shows what threads members are viewing and when they last clicked.
I think its very useful for
1. finding interesting topics
2. working out if people are looking at your artwork/animation/writing/website.
Also it can be used for spying on people.
BTW, the EYE. If you read the Daily Crumb.
You cant edit this now can ya! :D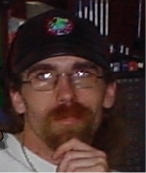 Nice hat.
-----------------------------------------------
NIGHTY NIGHT:
You may have noticed yesterday that i posted TWO articles. One, saving The Crumb from closure and one a night video log.
It was just testing something out. I'm unsure whether it will become a common thing.
- Nathan (munch) Viney