When artists have nothing new to say they go back to their old work. For many years The Daily Crumb have kept a photobucket log of drawings and animations.
A memory box opened up whilst searching and we discovered something. Crumb was, for about 2 weeks, going to be an animated character with friend Odei.

That was Odei.
His friend Crumb only made it into one digital drawing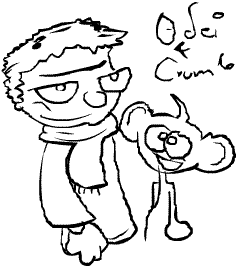 I'm sure you agree that it was lucky this was never made.
I thought, for the first time in Daily Crumb history. I could give you a look at my very first Flash Animation.
I always claim that Tomothy Live 1 is my first. Well it is my first proper cartoon (However terrible) but this one here, this was the first.
This is Flame Boy.
Click on the link
http://www.truploader.com/view/084275
The computer says it was made in
2004,
like the Tomothy Live episodes.
*
Now! Some more history maybe?
Over the years nathanviney.com or 'munchmedia' has gone through a lot of website design changes. Here are some examples.
These are not in any particular order.
This one being my fave (Click for bigger pics)
Eeeww!
So anyway
Nowadays i care less about my website design so if you visit you'll actually find it is a mixture of two.
As long as people know where they are going i am happy. The problem with my fave design (first posted bubbles) was all the links lead to new window pop ups. There was a lot of error with that and it was difficult to update without problems.
But the Museum has not finished yet!
I've still got some very old animations to show.
This being one of them.
Before munch was a little blond haired boy with a green and white scarf he was a BIG ORANGE BIRD.
Yeah that didnt last very long.
Check it out here
http://www.truploader.com/view/476753
And now last but not least i actually made a second PEANUTS Tribute no one ever saw.
http://www.truploader.com/view/424288
*
I hope you enjoyed viewing and reading about a little bit of The Daily Crumb's history.
I have not worked on the new animation, Cliff and the End of the Rainbow for about a week now but here is a screenshot.
One in which i am quite proud of.